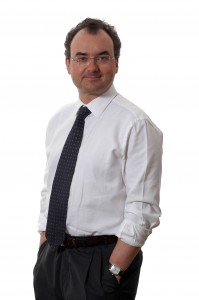 "Think "Italy" and you'll probably envision sun, pasta, amore, corruption – but not broadband. Think again. Led by Silvio Scaglia, Italy is among the world leaders in a technology called "fiber to the home". Thus begins the Time magazine article of 2003 about Silvio Scaglia, the only Italian to appear on the "tech survivors" list, a list of no more than fifteen innovation gurus who weathered the boom of the new economy.
Silvio Scaglia, born on October 14th, 1958 in Luzern (Switzerland), but raised in Novara, has always been a firm believer and investor in really innovative companies. He started off as a self-made man, in the true meaning of the word. After being awarded a cum laude degree in electronic engineering from the Turin Polytechnic, he started working for Aeritalia Spazio and participated, for one year, in a Nasa satellite project. He liked the job, but the call of the business world was overwhelming. He replied to an ad in the paper and spent the following two years working for Arthur Andersen and Consulting, first as a programmer and later as a consultant. Those were tough years and Scaglia worked hard. He improved his English and successfully completed both Toefl and Gmat; a step required to pass the exams to attend a degree course at Harvard or Stanford, using the scholarship granted by Istituto Bancario San Paolo to cover the relevant costs.
In the meantime however, Scaglia answered another ad in the paper and received an offer from Mc Kinsey, Milan branch, to work with Gianfilippo Cuneo. Scaglia worked there for three years and then followed Cuneo to the Mc Kinsey spin-off, Bain & Cuneo Associati. Gianfilippo Cuneo entrusted him with, among others, the consultancy for Piaggio. On that occasion, a relationship of trust and mutual respect developed with Giovanni Alberto Agnelli. So much that the latter, once appointed CEO of Piaggio Spagna, offered Scaglia the position of general manager of the Iberian branch. Between 1991 and '93 Scaglia worked in Madrid, then moved to Pontedera in the capacity of senior vice president, with specific competencies on extra-European activities, notably in India and China.
He gained his reputation of "global tech guru" through his pioneering work, which Silvio Scaglia demonstrated on three fundamental occasions:
1) in 1995, when he was about to relocate with his family to Singapore, the headquarters for the group activities in Asia, Francesco Caio offered him to participate as managing director in the Omnitel start up. A few months later, when Caio took on the leadership of Olivetti, Scaglia took his place as CEO. Under his guidance, Omnitel, now Vodafone Italia, became the second largest mobile phone provider in Italy and one of the most profitable companies in Europe, with exponential growth: from zero to over 10 million subscribers.
2)  in 1999, instead of retiring and enjoying the non negligible stock options (14 billion liras) received when he left Omnitel, which had been sold by Olivetti to Mannesman, he began his entrepreneurial career to realize his vision: data, voice and television should travel together along new broadband transmission networks. In order to do this, however, a very extensive cable network would have to be set up, incorporating the main cities in Italy. Scaglia set up, together with some managers and financier Francesco Micheli, e.Biscom, the first company to implement a real novelty in the field of telecommunications, building a network solely based on the Ip protocol, which is able to connect through fiber optics, also private customers, offering digital television and video on demand on fiber optics and adsl. A daring challenge, according to many, but which proved industrially sustainable. The technology launched by Fastweb for the first time in the world, is now a point of reference for the telecommunications world.
3)  Lastly in 2007, having sold his Fastweb shares following the public offer by Swisscom, Scaglia became a billionaire, with assets placing him, according to Forbes, among the world's top thousand wealthiest people. Scaglia used his wealth as a basis for new extremely innovative entrepreneurial adventures. Babelgum was born, one of the most innovative digital platforms to-date of professional videos for entertainment worldwide, available both on the web and on new generation mobile phones.
4) Mr. Scaglia then put his new media know-how to work in the luxury sector, one of the most vigorous trends in the global economy. Today, the engineer stands at the helm of a leading group in the world of talent management and luxury, with a network of model management agencies, Elite World and Women Management. He also won control of La Perla, a historic Italian luxury lingerie brand; Scaglia has been personally involved in relaunching the brand's manufacturing activities.
The companies that Scaglia contributed to set up employ today 15,000 people directly and over 15,000 people indirectly, for a grand total of 30,000 families.
These are the credentials of a man who was meant to open new roads, which go beyond the Italian stereotypes recalled with unconscious and bitter irony by the "Time" journalist.